Rationale and goals
For the last two decades, Israel has gone through a negative process that now makes it one of the four most unequal societies among OECD countries. Some 40% of salaried employees earn less than the minimum wage (less than 5,000 NIS), 15% of all workers are outsourced workers. 65% of families living under the poverty line are employed, and while wages have stagnated, cost of living has only continued to skyrocket.
In response, recent years have witnessed an ongoing surge of new labor unions, with over 120,000 workers unionizing since 2011.  This mass wave of labor organizing is perhaps the most important, concrete and effective social process taking place in Israel in recent years. Coupled with growing public awareness of labor rights, these unions play a central role in the attempt to mend the labor market and reduce inequality.
SEA's labor organizing program offers an introduction to the world of labor in Israel and trains labor organizers by offering the theoretical and practical toolkit needed to understand the labor market and worker's rights, as well as work in the field to unionize workers as social activism.
SEA is the only NGO in Israel working in this field and its expertise span over a decade. Since 2005, more than18 courses training labor organizers have been conducted by SEA. Graduates of the courses have gone on to join labor unions and to organize teachers, social workers, janitors, security guards, bus drivers and others.
Target Audience
Workers who want to learn about their rights and attain the tools needed to take advantage of their rights and organize.
Social activist who want to learn how to organize workers and play a role in unionization processes.
Program Topics
Social and economic policy in Israel and its ramification on the labor market
A history of labor struggles around the word and in Israel
A look abroad – International models of organized labor
Workers' rights: Labor laws and legal defences
Disenfranchised groups in the labor market – an overview
How to Organize? How to deal with Union busting?
campaigning and media
Labor-Community partnership building
Meetings with labor organizers and unions' leadership
Program's Structure
Part 1: The labor movement in Israel: History, Politics, trends + international perspective.
Part 2: Introduction into the world of labor and the different rights open to workers.
Part 3: Legal, economic and social aspects of organized labor.
Part 4: Practical training and toolkit for leading workers' organization.The program is comprised of 10- 15 meetings which include lectures, workshops and informal talks with leading activists in the field.The program detailed here is a basic outline which will be given to changes and adjustment in accordance to the unique character of the group and its membership. Some of the lectures and workshops can be given in Arabic.
Past Courses
Work Organizers Course in Tel Aviv, 2014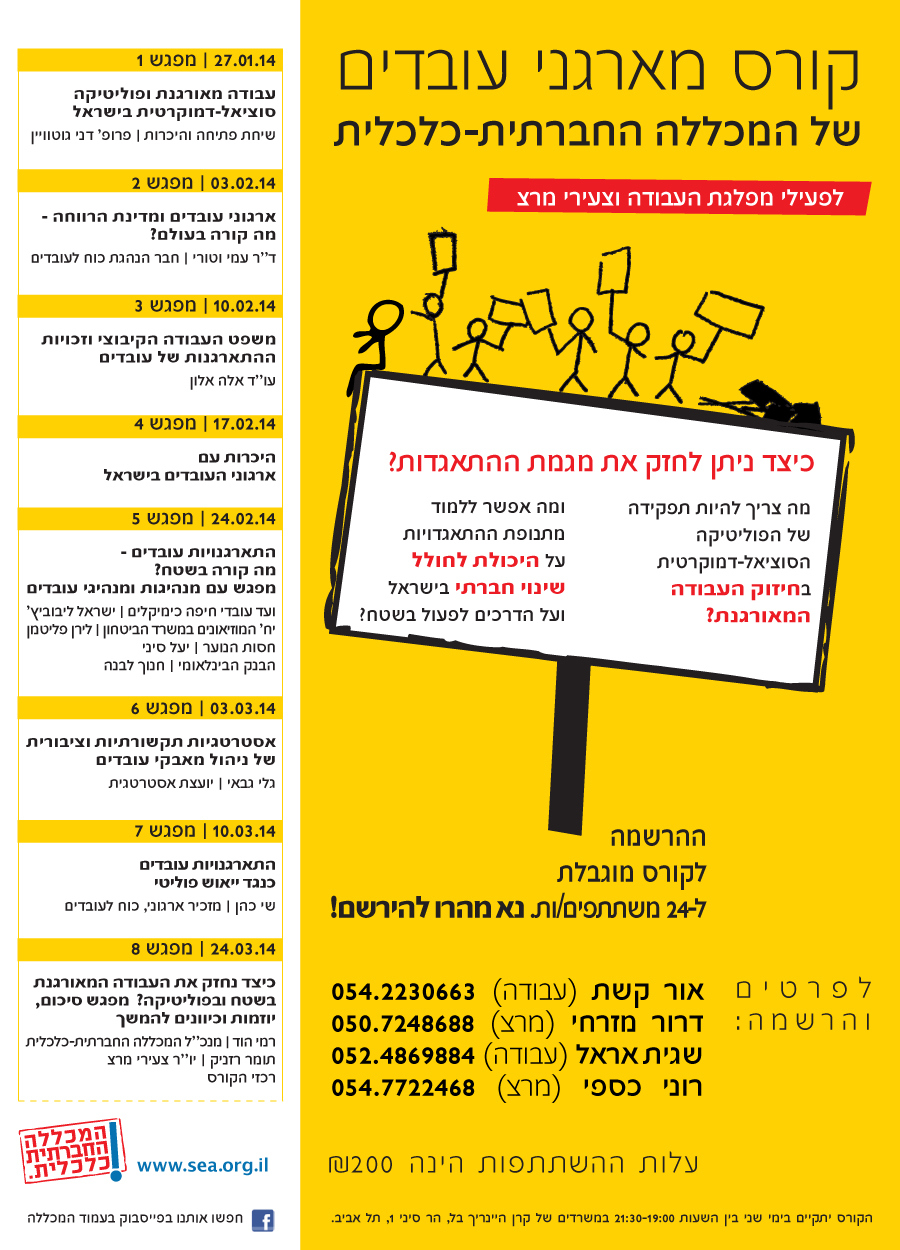 Work Organizers in Beer Sheva, 2012
Work Organizers, Migdal Ha'Emek, 2010
Labor Organizing Program

Contact Us