During April 2016, a group of Israeli teachers, who are taking part in a leadership program for labor leaders of the Social Economic Academy (SEA), toured the U.S. as part of an immersion program put together by the  American Federation of Teachers (AFT). During the tour, Israeli teacher leaders held work sessions with representatives from the AFT.  Among those participating in the tour was Talila Eylon, one of the founders and leaders of the Hila Program  teachers' union. The Hila Program is the last educational opportunity for at-risk youths, who have dropped out of Israel's public education system. Some 1600 teachers work with some 8000 youths.
The first impression one gets from the AFT is its sheer magnitude and power. The American Federation of Teachers, as its name suggests, is a federation of local organizations in the different states and major cities across the U.S. The AFT unions serves as a labor union not only for teachers, but for all 'para-educational' workers, like school nurses. We met with representatives from New York's United Federation of Teachers and from the Philadelphia Federation of Teachers. The main issue addressed in our work tour was teachers' unions' attempts to battle the privatization of the U.S. education system.
One of the central aspects of the privatization of the education system in the U.S was the formation of a new type of school called Charter School. Ironically, the logic behind these schools was first outline by former AFT president and leader – Albert Shanker, who envisaged an experimental school in which the teaching staff enjoyed full autonomy over school policy to better advance students' education. Today, this idea is long gone and the public education system is now a vocal critic and advocate against charter schools, which go largely unregulated, except when they need to renew their 'charter' – or license – once every five years. The most grievous claim raised against such schools is that their funding comes at the expense of publicly run schools, mortally depleting the poorer public schools of their financial lifeblood. Moreover, though public funding is contingent on the school being open to all potential students, over the years charter schools have developed methods to become elitist and selective, at times even expelling students who threaten their success rates.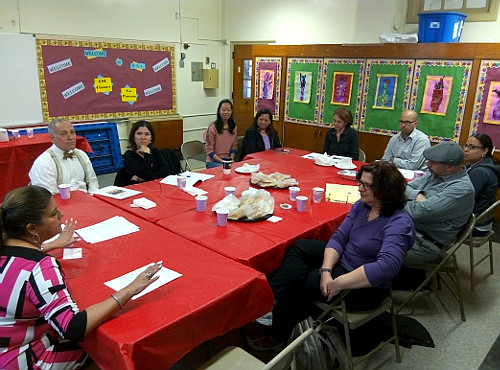 When charter schools are examined from the perspective of worker rights, it becomes evident that most teachers in these schools are not organized and that any attempts to unionize them are quashed or strongly discouraged schools' management.  Moreover, because these schools are largely free from public supervision , they are free to employ as teachers even those without the required training, for example,  graduate students or academics, hiring and firing them solely at the administration's will. The AFT is now investing its resources in trying to unionize the teachers at these institutions, and made a strategic choice to employ specially dedicated full time labor organizers for this purpose, something almost inconceivable in Israel.
The level of professionalism and dedication these labour organizers bring to the task of unionizing left a strong impression on members of our delegation. The process of unionization is clearly defined and each stage of it is outlined in advance, with clear criteria for evaluation and follow up: from the decision to unionize and up until the signing of a collective agreement and even afterwards. While learning about this impressive workflow I could not but be amazed at the success of the HILA teachers' union, whose leaders had to learn the unionization process on the fly, as we progressed. Though much professional aid was received from our organizers , there is much to be learned from the sheer  professionalism and organizational resources we saw in New York, and it should serve as a model for future unionization processes in Israel.  
An additional aspect of unions' work, which could be of benefit to us, is their partnership with different organizations and bodies active in and around the school system, for example, partners-teachers associations, which are even given an office on the school premises and have a full time representative tasked with community outreach. In neighborhoods with a high percentage of immigrants, these associations even offer educational opportunities and at times health care to poorer parents. Additional partnerships initiated for the schools' benefits were with local religious leaders and organizations of faith (Jewish, Christian and Muslim). In my opinion, the most important lesson that can be learnt from these projects was the community's ability to act  together around a common goal, agreeing to put aside and ignore controversial and divisive issues which are predominantly irrelevant to the educational issues at hand. We saw a beautiful and impressive example of such cooperation in our meeting with the Congregation Rodeph Shalom
in Philadelphia.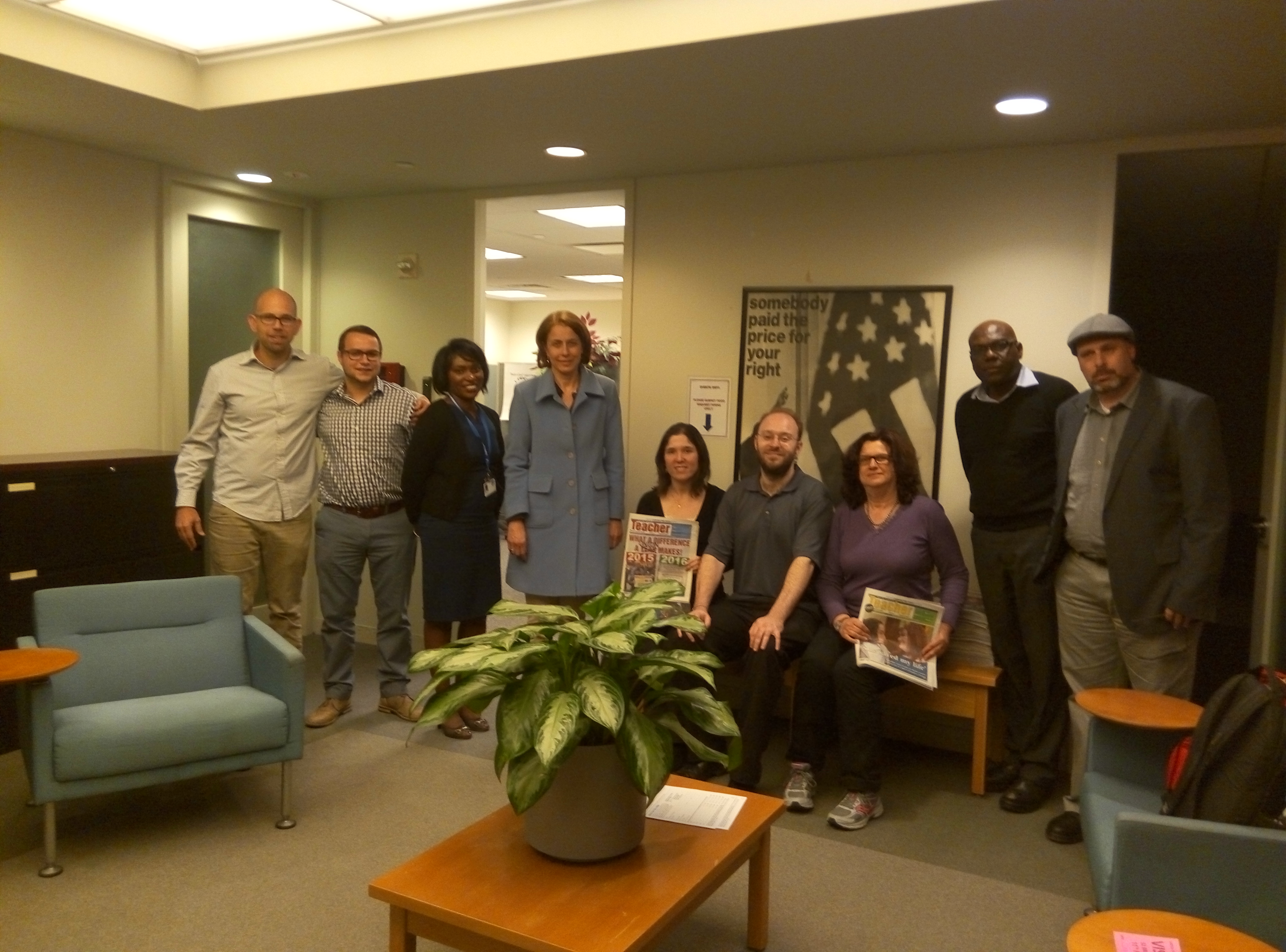 As part of their support for Clinton's presidential bid, members of the AFT also canvass poorer neighborhoods in search of potential minority voters, far from the affluent and white central Philadelphia. I must admit that upon entering an all-black neighborhood, where we joined AFT canvassers,  I was initially somewhat apprehensive, and felt the necessity to ask our guide, herself an African American woman, if it was safe for us to be present there. She quickly reassured us that we had nothing to fear. This experience, of being the only non-black in a poor black neighborhood highlighted for me how economic stratification falls along racial line in America and how, despite claims of prosperity by its capitalism, income gaps and economic inequality run rampant.
One of the more important meetings we held during our visit was with the president of the AFT, Randi Weingarten, who initiate our work tour together with the Social economic academy. Weingarten, a true friend of Israel and a significant partner in our common struggle for a more just Israeli society, ended our meeting with a firm request that we continue our struggle for social justice in Israel, promising to follow up on our activities and monitor our development.
Meeting with professionals from the field of labor organization, rich with experience of successful struggles for unionization, reinforced my belive that a successful labor struggle is possible only when the majority of the respective workers are dedicated to and involved in the process, and that its leaders should, and indeed must demand such involvement by them. More than anything, this tour taught us what we mustn't allow happen in Israel: wild and irresponsible privatization of the education system, instead of improving and advancing the existing public one. The creative and powerful struggle the AFT leads against privatization in education and the positive actions it takes to strengthen the public system and partner with communities, exposed us to important tools for our continued efforts in Israel.
Talila Eylon
May 2, 2016