SEA's Leadership Development for Labor Leaders Program seeks to inspire and educate a new generation of labor leaders in Israel. The program promotes worker rights issues and develops grassroots leadership, providing the tools and knowledge to labor leaders from different professions and organizations. Over the course of ten days, April 10-20, the AFT is hosting a delegation of four teachers from Israel who are taking part in SEA's leadership program. The delegation will visit several AFT projects in New York and Philadelphia, experiencing first-hand its campaigns against privatization of public services in education, efforts to improve public education and to promote activism and political participation in the public sphere.
The delegation is headed by Rafi Kamhi, the director of the Leadership Development Program and one of the leading labor organizers in Israel. Rafi helped found the Dor Shalom (Generation of Peace) organization, ran programs for young people aimed at revitalizing the values of democracy, social justice and tolerance following the assassination of Prime Minister Yitzhak Rabin ; organized the longest strike in Israel's history, which led to a change in the employment process at Haifa Chemicals in 2011; and established the Workers' Film Festival in his home town Haifa, now in its ninth year.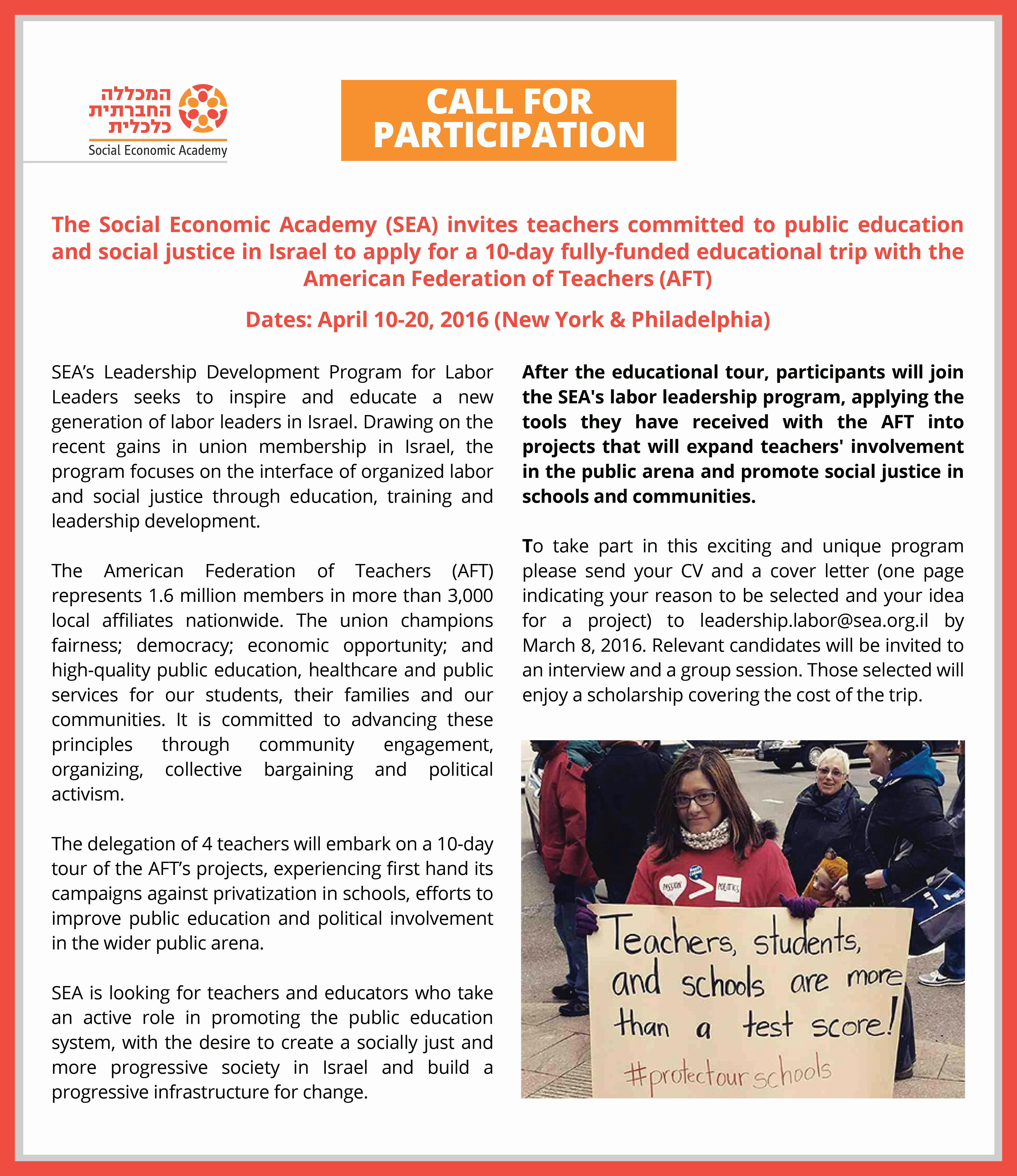 A few words on the members of the delegation. Two of the participants are a part of a new teachers movement that arose following the 2011 Israeli social justice protests and promotes teachers assuming greater influence on educational policy, and in particular promotion of tolerance, pluralism and equality in the curriculum. The other two are veteran educators have been leading the fight against the outsourcing of public school services in Israel. One of them is Lily Ben-Ami. Lily has been mobilizing her colleagues to oppose contracting out teachers. In her words, "the struggle for fair employment of teachers in Israel is part of a wider struggle for a more just Israeli society. The more social organizations deal with the everyday problems of Israelis, be it in the workplace, the community or educational system, we will be able to exert far more influence on society as a whole and increase the power of the progressive camp. We hope that the tools we will acquire during our training with AFT will serve us well back in Israel."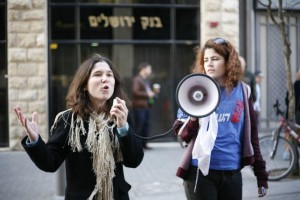 Commenting on the new partnership with AFT, Rami Hod, the Executive Director of the Social Economic Academy, stated that "in the past few years, Israeli society has witnessed a dramatic expansion of union membership and organization. Over 180,000 workers from different industries and various classes have joined trade unions. This is part of a growing movement for social justice that is slowly changing the face of Israeli society. On my recent visit to the US, I was delighted that AFT wanted to help our Leadership Development Program and share its professional knowledge with activist teachers from Israel. AFT President Randi Weingarten is a true friend of Israel and a significant partner in our common struggle for a more just Israeli society. Our partnership with AFT binds us Israeli and American progressives to a common vision as well as common challenges. This will also help us build a new alliance of progressives from Israel and the US, an alliance based on shared learning and development of skills that will strengthen the progressive camp in both countries. We are delighted with the partnership and look forward to its expansion in the coming years."
Upon their return to Israel, the four participants will apply the newly acquired skills to promote social and economic justice in their schools and communities, a step toward creating a more progressive society in Israel.