With support of the Social Economic Academy, economic students are working to change the curriculum of economics studies in the hopes of creating a new generation of socially minded economists. Originally Published on Ynet, 2.9.2014
Way back in 2007, when Yuval Ofek-Shanny, then a BA student in Haifa University, and his friends first thought up the idea of a forum where economics students could learn topics outside their curriculum, the economic world was very different than it is today. The global financial crisis had yet to erupt, mass protests for social justice were in the distant future and public discourse was still controlled by free-market, trickle-down economics pundits.
Ofek-Shanny, today the proud owner of an MA in economics, says that even then, "economics students were starting to feel that their studies, though well situation in the social sciences faculty, neglected the connection between economy and society, and failed to discuss Israeli society, specifically its economic history and controversies."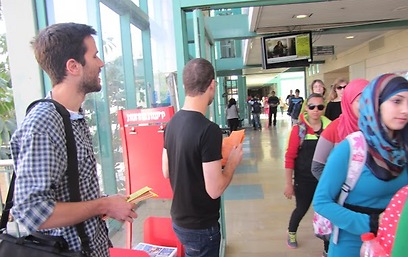 Forum's students at Haifa University (Photo courtesy of Social Economic Academy )
Ofek-Shanny and his friends turned to the Social Economic Academy – a non-profit education and training organization promoting social change, through workshops given by leading academics and social activists – and planted the seed of the first forum where economics students were taught to "think beyond the numbers," as the forum's motto says.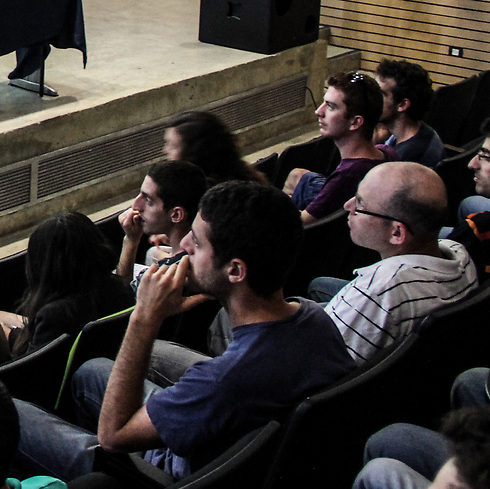 Students listen to Prof. Eytan Sheshinski (Photo courtesy of Social Economic Academy )
With the guidance of Rafi Kanhi, the head of the Academy's northern branch, the forum has since held five courses open to Haifa's economics students, dealing with topics considered marginal at the time but which are now at the forefront of public debate: privatization, inequality, workers' unions and co-ops.
Aided by speakers including Prof. Ariel Rubinstein, an Israel Prize laureate and one of the Academy's founders, Prof. Joseph Zeira from the Hebrew University and Dr. Nili Mark, the forum started to gain momentum, even winning the support of the Haifa University Economics Department.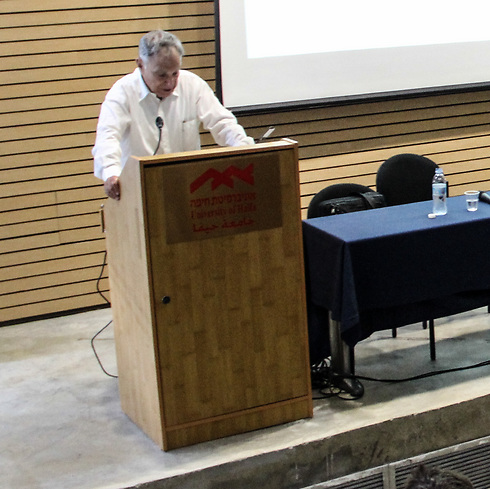 Prof. Eytan Sheshinski (Photo courtesy of Social Economic Academy )
Since the forum was established, public discourse over economic and social issues has seen some dramatic changes. The causes of social justice and fair distribution of resources are no longer just a rallying call: The economic establishment itself is starting to change as well.
Last January, in the World Economic Forum in Davos, Switzerland (a far cry from Tahrir Square, Rothschild Boulevard or the Occupy Wall Street's tents in New York) a survey of 700 experts revealed they believed the greatest risk the world is facing is inequality.
At the same time, debate over what is taught and, mainly, what isn't taught in economics departments became even more prevalent. Dr. Nili Mark, a lecturer with the forum since its inception and the writer of 'introduction to economics' textbook, which is widely studied in economics departments, said she has no doubt significant changes must be made to the subject matter.
"For instance," she explains, "the discussion of market failures must be widely expanded. Identifying instances in which government intervention is justified for economic reasons, not only social reasons, is no less important than understanding the free market, possibly more. Economic history must be taught more thoroughly, and ideological considerations influencing economic policy must be presented."
"Mainly," she concludes, "the guiding principle should be that economics doesn't really stand on its own as a science, but is part of the social sciences."
Recently, an unprecedented global initiative of 21 economy students groups, including the Haifa forum, called for an overhaul of economics studies, a call which was widely covered by global media:
"Change will be difficult – it always is. But it is already happening. Indeed, students across the world have already started creating change step by step. We have filled lecture theatres in weekly lectures by invited speakers on topics not in the curriculum; we have organized reading groups, workshops, conferences; we have analyzed current syllabuses and drafted alternative programs; we have started teaching ourselves and others the new courses we would like to be taught.
"We have founded university groups and built networks both nationally and internationally. Change must come from many places. So now we invite you – students, economists, and non-economists – to join us and create the critical mass needed for change."
At the same time as joined with global initiatives, the Haifa forum has also increased its influence and managed to draw about 50 economy students every week to its course on critical economic thought in the second semester of 2014.
Alongside lectures on subjects such as the Nordic Model, privatization and nationalization, and ecological economics, students were taken on a field trip to Jerusalem where they met with Bank of Israel Governor Dr. Karnit Flug, economy journalist Shaul Amsterdamski and the chairman of the Knesset Economic Affairs Committee, Prof. Avishay Braverman.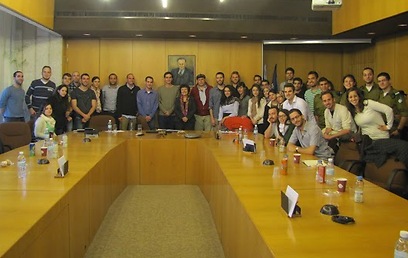 Students with Bank of Israel Governer Prof. Flug (Photo courtesy of Social Economic Academy )
Ori Rubin, a forum member, said the growing interest in the forum's activity opened new possibilities. The forum's primary goal, he explains, is to bring about "real change to the curriculum, knowledge and moral values students will take with them to the job market."
"We plan to expand the forum's activity and have a real influence over the economics graduate and over the discourse in those departments," he says.
"The activity of the forum is part of a deep process taking place in Israel and around the world," adds Rami Hod, the director-general of the Social Economic Academy. "A growing number of groups are interested in studying the social reality in order to change it, and when the call for change comes from economics students that's especially promising.
"Those same students will soon work for the public sector where Israel's economic policy is formed. Some of them will pursue an academic career, becoming the teachers of future generations. Therefore, their ability to question the theories they study and their knowledge of topics missing from the curriculum, like inequality, has the utmost importance."
Will then economy departments, widely perceived as the hotbeds of capitalism, actually become the locus of change?